Arianna Savall & Petter Udland Johansen in Cavatina Hall!
Mediterranean and Nordic Christmas music with Arianna Savall and her Baroque ensemble Hirundo Maris.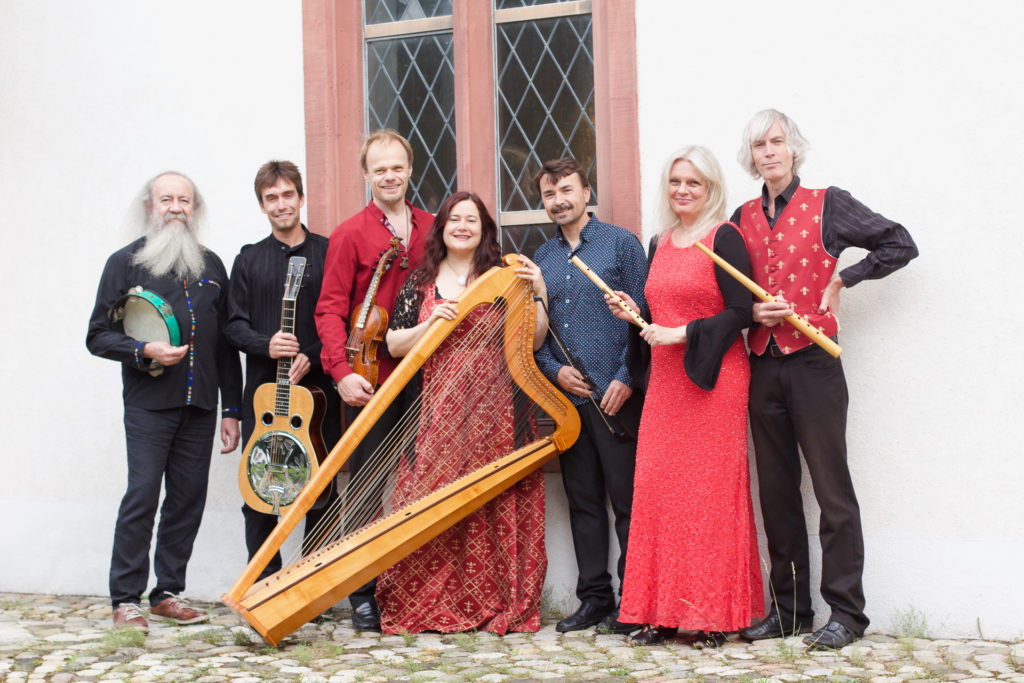 Since the founding of their ensemble in 2009, Hirundo Maris, the Catalan harpist and singer Arianna Savall, and the Norwegian tenor and violist Petter Udland Johansen have committed themselves to music from the Middle Ages up to the Baroque period. And a special emphasis has been Mediterranean and Nordic music. For their current album, "Silent Night – Early Christmas Music and Carols" both musicians and ensemble conductors have chosen traditional Christmas songs from the north and south. And in doing so, invite you along on a journey of sound into the magical world of centuries-old winter, Advent, and Christmas music.
The German song "Silent Night" is laid out on the program alongside the Norwegian Christmas song "Mitt hjerte alltid vanker", the Provençal "Ô nuit brillante" and the Catalonish, "El cant dels ocells", which the legendary early music pioneer Jordi Savall, Arianna Savalls famous father, orchestrated for the recording. "Every country has its own Christmas traditions and its own treasure trove of Christmas songs" says the musician from the Hirundo Maris ensemble (the ensemble name is the Latin term for "sea swallow"). "Some of them, like "Silent Night" are known throughout the world and are translated in numerous languages, but many of these songs have remained hidden in their home countries like a national treasure. Hirundo Maris now showcases many such musical treasures in imaginative compositions that fuse the old with the present day.
The expressive voices of Arianna Savall and Petter Udland Johansen give rise to an atmospheric dialogue with multifaceted instrumental parts. Such sounds emanate from cheerful bagpipes, an expertly played Cornetto, the poetic slide guitar "Dobro" and violins, flutes, harps and percussion.
"Our music is based on four important elements: early music, folk music, our own composition, and improvisation. We all play different instruments, but the voices of Arianna and Petter are the main focus of our group." The musicians of Hirundo Maris all come from many European countries: Norway, England, Germany, Poland, Spain, and Catalonia. And accordingly, the recording of beautiful melodies has become a kind of sound mirror reflecting the diverse musical traditions of European Christmas celebrations. "The singing of heavenly Christmas music brings everyone peace and hope" says Arianna Savall. "Singing is one of the best opportunities to bring people together. It is very spiritual. We cannot touch it, but we all feel it deep in our hearts."
Tracklist:
Silent Night
Early Christmas music and carols from North to South
Carolan's suite: Carolan's welcome, Fanny Power, The Brig Turlough O'Carolan (1670-1738)/ arr. A. Savall
The Holly and the Ivy (El noi de la mare) – trad, English/Catalan , arr. Arianna Savall / Petter Udland Johansen
Rug Muire Mac do Dhia (Mary bore a son to God) – trad. Irland 18. Jahrhundert, arr. Arianna Savall
In the bleak midwinter – Gustav Holst (1874 – 1934)
Jotas – Santiago de Murcia (1673 -1739) arr. Arianna Savall
Maria durch ein'Dornwald ging – Hessische Volkweise um 1600
El Desembre congelat – trad. Catalan, arr. Arianna Savall / Petter Udland Johansen
Banish misfortune – trad. irisch
pause
El noi de la mare – trad, Catalan , arr. Arianna Saval
La Pastora Caterina – trad, Catalan , arr. Arianna Savall
Es ist ein Ros entsprungen – Michael Praetorrius (1571 – 1621) arr. Arianna Savall
O nuit brillante – trad Noël Provençal, arr. Arianna Savall / Petter Udland Johansen
Canarios – Renaissance dance from Spain / arr. A. Savall
El cant dels ocells – trad. Catalan, arr. García Morante
Ay que me abraso ay – Juan García de Zéspedes, (17. Jahrhundert, Mexico) arr.Arianna Savall / Petter Udland Johansen
Artists:
Hirundo Maris
Arianna Savall: Soprano, baroque triple harp
Ian Harrison: Whistle, border pipe, mute cornett
Sveinung Lilleheier: Dobro, acoustic guitar
Michal Nagy: guitar
Miquel Àngel Cordero: Double bass
David Mayoral: Percussions