Price: 139 - 179 zł
Main Hall
Duration: 2h
Dodatkowe informacje:
Tickets only available online: ticketclub
16 acoustic concerts in 13 Polish cities!
KULT announced the dates of the Kult Akustik 2023 tour! The band will once again take their fans on an extraordinary musical journey, during which they will present their greatest hits in an acoustic version. The annual tour "without electricity" will start on February 26 in Częstochowa and will last until April 16. Kazik Staszewski's formation has planned a total of 16 concerts in 13 Polish cities. The route also included: Poznań, Gdańsk, Łódź, Lublin, Katowice, Bielsko-Biała, Kraków, Wrocław, Szczecin, Warsaw, Toruń and Bydgoszcz. Tickets for all concerts under the banner of Kult Akustik 2023 are on sale!
KULT was established over 40 years ago in Warsaw. Its founders are vocalist (and later also saxophonist) Kazik Staszewski and bassist Piotr Wieteska. The first line-up was completed by guitarist Tadeusz Bagan and drummer Darek Gierszewski. The band made its stage debut on July 7, 1982 at the Remont club in Warsaw. Since then, the group has not lost its popularity, constantly touring and releasing new albums.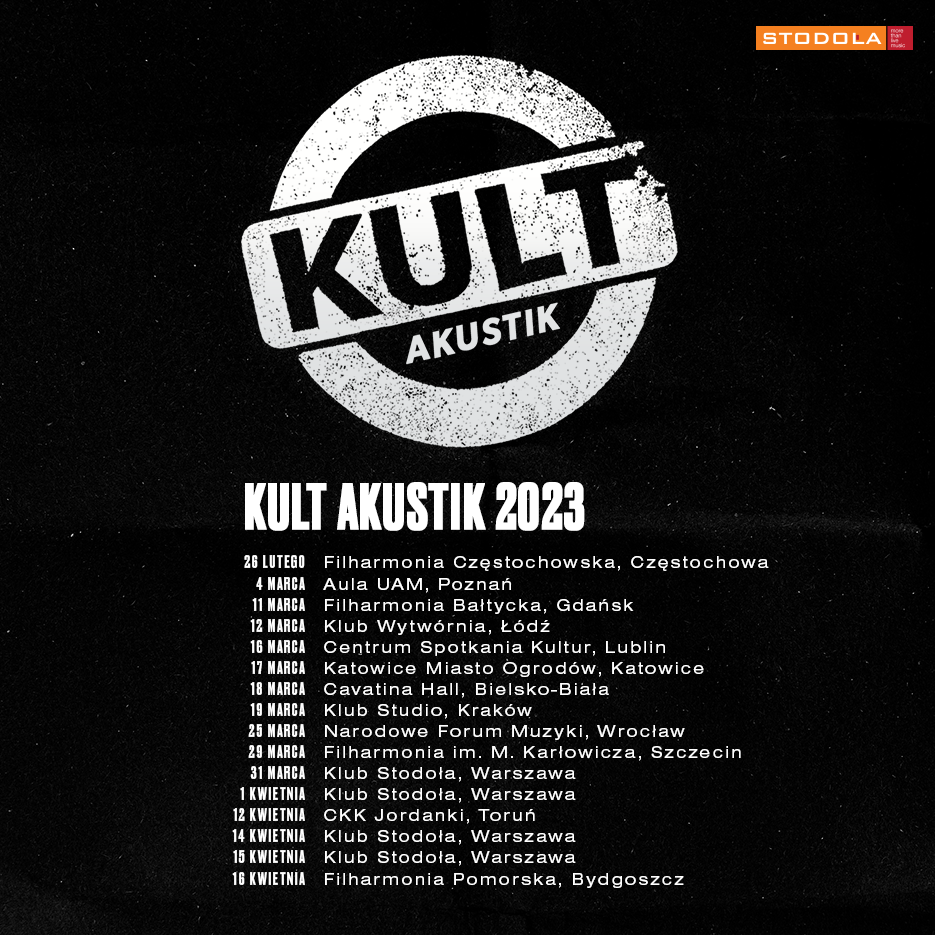 For years, a permanent element of the band's concert schedule has been the Kult Akustik tour, taking place in the first half of the year. Covering over a dozen of the largest Polish cities, the series of concerts "without electricity" is a real tradition, annually celebrated by tens of thousands of fans from all over the country. A permanent point on the map of this unique tour is m.in. Warsaw's Stodoła, where the band plays "without electricity" four times a year, filling the club to the brim. It will be no different in 2023!
The current line-up of KULT includes: Kazik Staszewski (vocals), Wojciech Jabłoński (guitar), Piotr Morawiec (guitar), Ireneusz Wereński (bass), Tomasz Goehs (drums), Konrad Wantrych (keyboards), Janusz Zdunek (trumpet), Mariusz Godzina ( saxophones) and Jarosław Ważny (trombone). Acoustic concerts are also attended by exceptional special guests every year.